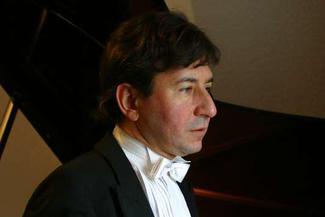 Arkadi Zenzipér was born in St. Petersburg in 1958 and studied piano at the St. Petersburg Conservatory with G. Sokolow and N. Perlmann. The fall of the wall and the inner-German border was also a personal stroke of luck for Arkadi Zenzipér: as a soloist, he was now invited to concerts at home and abroad. He performed with the Staatskapelle Dresden, the Berliner Rundfunk-Orchester, the Czech Philharmonic and the Staatskapelle St. Petersburg. He played at the Schleswig-Holstein Music Festival, at the Münchner Klaviersommer, in the Concertgebouw Amsterdam and won the XI. International Chamber Music Competition in Florence.
In the town of Schnakenburg on the Elbe, where his family lives today, Arkadi Zenzipér created the "Schubertiaden". It's been already three years in a row musicians and students gathered for workshops and concerts for two week in August, united by the joy of making music.
Georgian composer Giya Kancell, who wrote about Arkadi Zenzipér:
"Arkadi Zenzipér is a true romantic, a dreamer, which affects his musical work as well as his social activity …", and further it says "… there are many dreamers, but people who can realize their dreams, There are only a few, Arkadi Zenzipér is a personality that brings dreams to life. "
Winner of international competitions, he is professor and dean of piano department at Dresden's Hochschule Carl Maria von Weber. He is on the adjudicating panel of the Anton Rubinstein International Piano competition.
​
CLASSES 2017 - 2018
Coming soon...